Acer Launches Spin 7 – India's 1st 5G Enabled Laptop powered by Qualcomm Snapdragon 8CX Gen-2 5G Compute Platform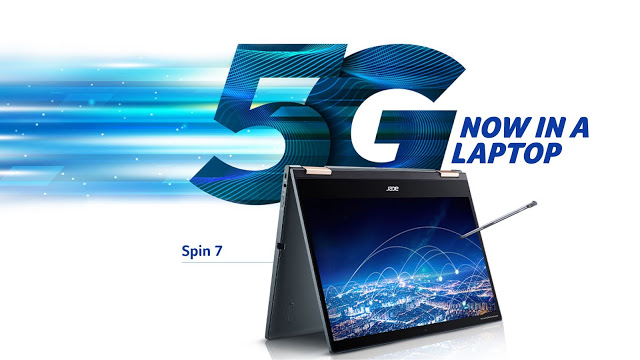 The Acer Spin 7 is powered by the Qualcomm® SnapdragonTM 8cx Gen 2 5G computing platform that supports both mmWave and sub-6 GHz 5G frequencies, allowing users to stay connected on the go with the astonishing speeds of 5G. thanks to the Qualcomm® Kryo ™ 495 octa-core CPU with a speed of up to 3.0 GHz The new Spin 7 weighs only 1.4 kg and is only 15.9 mm thin with a sleek magnesium-aluminum alloy body The all-new 5G Spin 7 features a 360 ° durable hinge design that allows users to easily rotate the screen to tablet or tent mode to comfortably read, write, sketch or share work when needed. [1], the Spin 7 allows long-term use The touchscreen covered with anti-microbial Corning® Gorilla® Glass provides protection and a 100% sRGB gamut along with 250 nits brightness provide a bright and vivid display Additionally, a dockable Wacom AES 1.0 pen with 4,096 levels of pressure sensitivity is included, allowing users to draw and take notes on the Full HD IPS touch screen of the device Bengaluru, April 21, 2021: ACER, one of the leading global PC brands, today launched its first-ever 5G compatible convertible laptop Spin 7 unveiled in India offering incredible performance and connectivity, supporting both mmWave and sub-6 GHz frequencies. Powered by the Snapdragon 8cx Gen 2 5G computing platform, the laptop has a 360-degree hinge that allows users to flexibly switch screens to comfortably read or type a document in clamshell mode or take notes on the touchscreen mode of the device. Weighing just 1.4kg and 15.9mm thick, it features a stylish magnesium-aluminum alloy chassis for a sleek, professional look. The new Spin 7 delivers up to several days of battery life without having to reach for a power cord. With Windows Hello, users can directly access Windows 10 devices with their fingerprint for added security and convenience.
Speaking at the launch, Sudhir Goel, Acer India's Chief Business Officer, said, "We are delighted to launch our very first ever laptop on the Snapdragon 8cx Gen 2 5G computing platform in India, which enables outstanding productivity and portability with multi-day battery life. , lightning-fast 5G connectivity and more. An Always On, Always Connected laptop specifically designed to deliver a breakthrough experience that keeps pace with the modern lifestyle of working from anywhere. The Acer Spin 7 is truly a laptop ready for the future. "
"Now more than ever, laptops are the device of choice for personal use and remote working. At Qualcomm Technologies, we design innovative technologies that enable industry-leading 5G connectivity experiences. Our partnership with Acer to develop an always-connected, 5G-compatible laptop with extremely long battery life is a step toward realizing our vision of powerful, secure and efficient PCs driving the industry forward for global PC users. We are proud that our powerful Snapdragon computing platforms enable 5G future-proof, high-performance laptops that provide great reliability and speed for a wide spectrum of personal and business applications. said Rajen Vagadia, VP and President, Qualcomm India Pvt. Ltd.
Acer Spin-7: SP714 61NA WP FP-Backlit_Blue
Productivity from anywhere:
The Snapdragon 8cx Gen 2 5G computing platform brings the best of the smartphone to premium ultra-thin, fanless laptops; with powerful performance and industry-leading efficiency to enhance Always On, Always Connected PC experiences. In addition to superior performance and multi-battery life, Snapdragon 8cx Gen 2 supports 5G connectivity speeds of up to multiple gigabits with 5G and connectivity, premium camera and audio capabilities, enterprise-class security, and AI-accelerated experiences. These features allow you to connect, create and communicate from virtually anywhere.
Connect Anywhere:
The new Spin 7 laptop uses the Snapdragon 8cx Gen 2 5G computing platform that supports 5G connectivity on both mmWave and sub-6 GHz frequencies. The speed, low latency and independence offered by 5G connectivity means the Spin 7 can meet the demands of modern work life. As remote working becomes the new standard and the workforce spreads, fast 5G connectivity allows users to stay connected for effective productivity on the go.
Maximum portability:
The Spin 7 is a 14-inch convertible laptop designed for modern mobile professionals with a magnesium-aluminum alloy body that measures just 1.4kg and is 15.9mm thin, with a screen spanning 100% of the sRGB gamut. allowing vivid and sharp colors. Acer's 360-degree hinge design allows users to use the laptop in multiple modes, including tent and tablet mode, for the best experience per application.
More than a day of use:
Being on the road all day requires long battery life and a 56WH battery, along with the industry-leading efficiency of the Snapdragon 8cx Gen 2 5G, the Spin can last for 7 up to 29 hours – enabling your work and entertainment experiences for extended use!
Antimicrobial Solutions for a Safer Computing Experience:
The touchscreen is covered with a layer of anti-microbial Corning® Gorilla® Glass. A BPR & EPA compliant silver-ion antimicrobial agent in the coating on the keyboard, touchpad and surrounding surface shows reliably high microbial reduction against a wide variety of bacteria according to the JIS Z 2801 & ISO 22196 test protocol.
Authentic writing experience:
The Spin 7 chassis also has an Acer Active Stylus, a rechargeable stylus with 4,096 levels of pressure sensitivity that uses Wacom AES 1.0 to provide users with an authentic sketching or annotation experience on the device's touchscreen.
Protection you can rely on:
The new Spin 7 features Windows 10 Pro with built-in protection for data, equipment and people, keeping company information and personal identities safe, even on lost or stolen devices. With Windows Hello, users can directly access Windows 10 devices with a fingerprint, making it easier and more secure to log in to a PC.
Price and availability:
Spin 7 with Snapdragon 8cx Gen 2 5G is available from Rs 1,34,999 / – at the Acer Exclusive Store, Acer Online Store and other partner stores.
Click here to learn more about Qualcomm Technologies Snapdragon computing platforms for 5G PCs.
[1] Battery life varies significantly with device, settings, usage and other factors.
Qualcomm, Kryo and Snapdragon are trademarks or registered trademarks of Qualcomm Incorporated.
Qualcomm Snapdragon and Qualcomm Kryo are products of Qualcomm Technologies, Inc. and / or its subsidiaries.